Available for adoption Lowermainland/Okanagan/Sunshine
3 years old, Male, 16kgs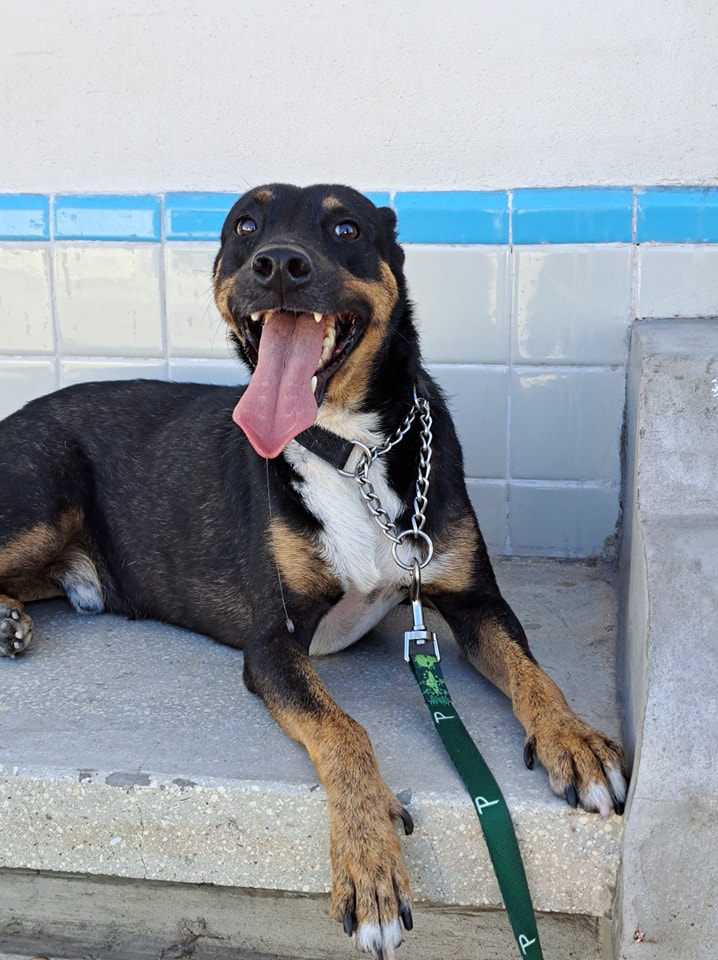 Temperament: Sweet, playful. Energy: medium generally, high as he can run and be active for long periods of time if needed. Children Friends: Yes
Dog Friends: Yes. Cat friends: Chases them. Needs more training.
Resource guarding: No Bark/noisy: occasionally to strange noises from the outside. Housebroken: Needs a bit more training. Shedder: not at all.
Crate trained: yes Leash etiquette: Good Good in car: Very good

Foster assessment
Casimiro is a sweet and affectionate dog. He is friendly with everyone he meets, except cats (not his fault, he had bad influence from another
dog. We think he can make peace with cats if given the opportunity and training). Casimiro is great meeting new dogs outside, inside his
home, he currently lives with 2 small chihuahua dogs and 2 bigger dogs.
He is a good companion in and out of the house. When inside he can occasionally bark at noises from the outside. At restaurants or public places he behaves well, calm and picks his place to lay. He is curious of his surroundings and friendly to the people around. Casimiro loves riding on the side of a bicycle, gives the occasional run, and of course his daily
walks. He is a great walker. He is not skitish nor nervous, but takes his distance from toddlers. Older kids he is fine and loving and playful with them. Everyone he meets agrees that Casimiro is adorable, so chill and cool. His long tongue, his pointy ears that are very expressive and his silly faces melt everyone. Casimiro was rescued with many and severe skin infections, he lost all his fur at once. Today he is soft, has good quality hair, and no shedding at all. The only downside we can spot about Casimiro is that he marks territory, mostly in new territories. So when in restaurants or new places we must be attentive to avoid a pee.
After he settles in the space he looses the need of marking. We trust that with some more training and one on one with him he will overcome this.

Rescue Story :
Casimiro was rescued June 27 of 2021 on a lonely road in the middle of the yucatan jungle, far from any visible town. He was clearly exhausted, and weak from disease, thirst, and hunger. He was picked up by Dra. Carolina Ancona, who was on her way from Mérida to Colonia Yucatán, a very small town in the Yucatán state where we were holding a free spay
and neuter clinic. She and her team put Casimiro inside their car despite the very bad smell that came from his skin.
Once arrived to Colonia Yucatán, our vets checked him out and we prepared a comfortable kennel for him to spend the weekend during our clinic. After finishing a two-day successful clinic we made an exchange with Dra. Carolina. Our Cozumel team had rescued 3 cats in Colonia, but we had no foster available for them back in the island. Dra. Carolina did.. So we exchanged and we took Casimiro to Cozumel and Dra. Carolina took 3 cats to Mérida. His recovery journey was long. His skin had fungus, bacteria, mites, wounds and a terrible smell. With treatment he lost all his fur, (that was kind of cool as he got to look like
a xoloitzcuintle for a few weeks, haha). He was also sick with heartworm, erlichia, anaplasma, and had a severe ear infection. He survived it all. And that is how our life was blessed with Casimiro, a truly affectionate pup who despite having been so hurt and in so much despair, he overcame and still kept his sweetness.