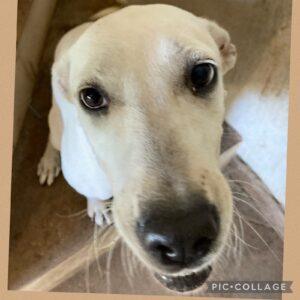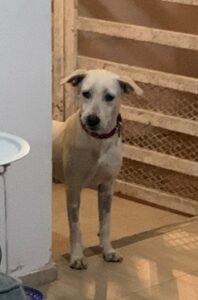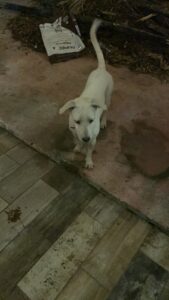 Approx. age: 2 year, Female, Weight: Kg 16, Energy: high
Behaviors
Temperament:
The vet says she is two years old but her temperament is that of an 8-month-old puppy, she plays with everything she finds, she is very affectionate, she is not shy, she lives very well with dogs and cats, she is obedient, she likes to be around people, giving kisses, having her belly scratched, she is very intelligent and sociable, she likes to watch people from the balcony without bark and knows how to walk on a leash, she loves the street but she also knows how to lie quietly in the room if you are around, she tries to climb on the bed (we think the person who raised her allowed it) but you say no!! She understand very well that Word; she is 100% indoor and tells you when she needs to go to the bathroom.  She will follow you wherever you go.  She is not a dog that barks for anything, only when necessary; she likes to play with her tail and steal the cats'food without you noticing.  She is definitely a very smart, spontaneous and affectionate girl.
Children Friends: yes Dog Friends: yes Cat friends: yes Resource guarding: No Bark/noisy: No Housebroken: yes Shedder: not excessively Crate trained: yes Leash etiquette: Yes. Good in car: yes she likes
Rescue Story:
She arrived at the door of our house, clean, recently sterilized and with a nice collar, but her family never showed. We assume she had a home in her first months of life and for some reason they let her go after sterilizing her because she is not fearful, from her attitude we are sure that she grew up with love.
Foster assessment
Chapis lives with us from January.
She seemed shy and was afraid to enter the house but that shyness lasted 5 minutes, as soon as she entered she climbed on the sofa and fell asleep, then she was introduced to my three dogs and she had no problem living with them, she plays a lot with our Platanito 12 year old dog, the other two are female but although they are younger than Platanito they play very little but do not fight among themselves.  Everyone choose their space, they eat and drink from the same dishes and they don't fight or bark at each other, she integrates very easily, we think she is not an alpha female.
She will adapt to any family since she can be calm lying inside the house, looking out the balcony or playing on the terrace alone, with dogs or with children.  She will definitely steal your heart because she is a dog that likes to be close to you but she doesn't bark to get your attention, if she can't be with you she will look for something to entertain herself to come fill you with kisses when you arrive