​Thank you for stepping up to rescue a dog in need!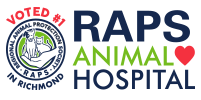 The Regional Animal Protection Society operates the RAPS Animal Hospital, a community-owned, not-for-profit veterinary facility conveniently located in the Richmond Auto Mall.
The RAPS Animal Hospital has a special gift for all adopters from Taco Dog!
We are thrilled to offer you $100 in eGift card for in-house veterinary care. In addition, receive a VIP Membership to the hospital for 25% off all in-house
surgeries and services. You'll save a minimum of $100 on your first visit!
Please click this link to receive your gift card today!
https://www.rapsanimalhospital.com/taco-dog.html
Simply complete this form, agree that you have accepted the terms and conditions, and we will email you your eGift card number. Then you can book an
appointment at your convenience.
This offer expires December 31, 2023. No cash value.
Review Terms & Conditions here. 

About Raps
If you have questions about this offer, please contact [email protected].
Regional Animal Protection Society
Regional Animal Protection Society (RAPS) is a no-kill animal services agency that operates what is now Canada's largest cat sanctuary.
​Charitable Registration No. 89073 3777 RR0001
The RAPS Animal Hospital is a program of the Regional Animal Protection Society.

Contact Information
Suite 205 – 13340 Smallwood Place
Richmond, BC  V6V 1W8